Have you ever wondered what Santa Claus does in the summer and what his residence and Lapland itself looks like at that time? No, Christmas snowy weather doesn't magically persist all year round. To Lapland, with its lush green colours and warm weather, however, comes summer.
Is Santa Village open in summer?

And if so, what is there to do there without snow at all? How warm is it in Lapland at this time of year? Does it get too hot for Santa? Scandinavian Travel Group knows the answers to all these piles of questions. Look at this Santa from Rovaniemi!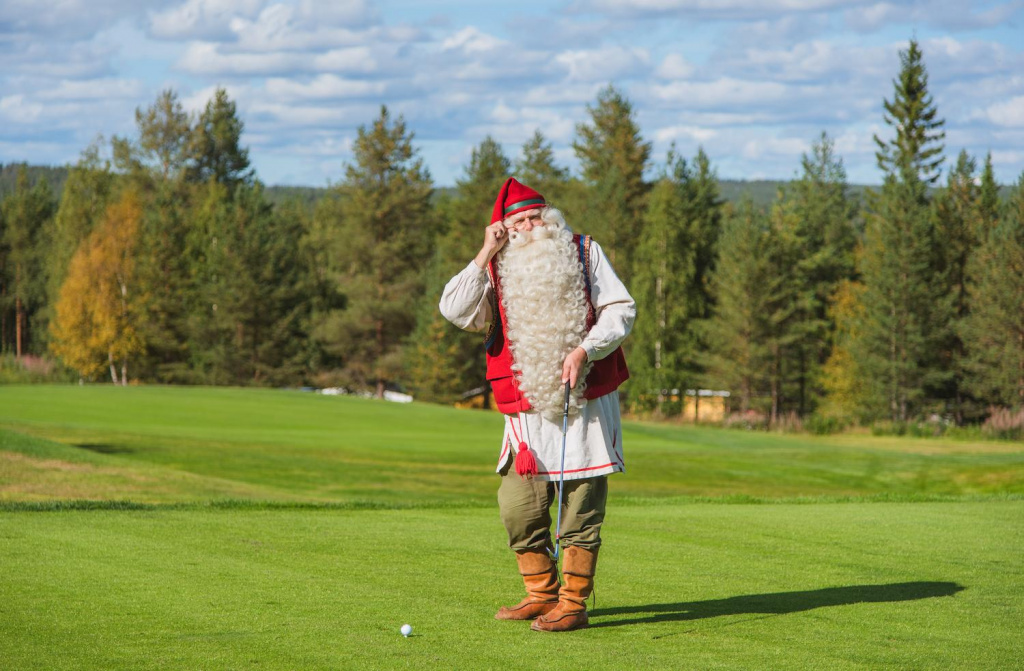 Santa Claus Village in summer
In summer, Santa doesn't go to warmer climes, as his favourite place to relax is outdoors amidst the unique Lapland nature. Although there are exceptions, and we can even share some footage from Santa's beach holiday, where he was spotted one day...

At this time of year, he doesn't have to look after all his reindeer, so they're allowed to walk in the forest. Consequently, he has more free time. But besides enjoying the long days of light, Santa Claus and his elves are busy preparing for the coming Christmas. The Santa Claus Village is therefore open all year round.
The Village is located in Rovaniemi (3 km drive from Rovaniemi Airport). But you don't need to look for this complicated route on your own, as the travel agency Scandinavian Travel Group will organise everything for you. All you need to do is submit a request for a guided tour.
You can visit Father Christmas at least every day because the entrance to his residence is free. By the way, all communication with Santa is recorded and broadcast live worldwide via the Internet (so no pranks). And yes, one of the advantages of visiting Village in summer is that there are no long queues.
Isn't Santa hot in the summer?
Summers in Rovaniemi are quite warm. To escape the too-warm weather, in his spare time Santa likes to swim in the clear waters of Lapland's lakes. He also goes boating, fishing, relaxing by the lake or river, and refreshing himself in the forest cool. Below you will find all the truth about Lapland's summer weather.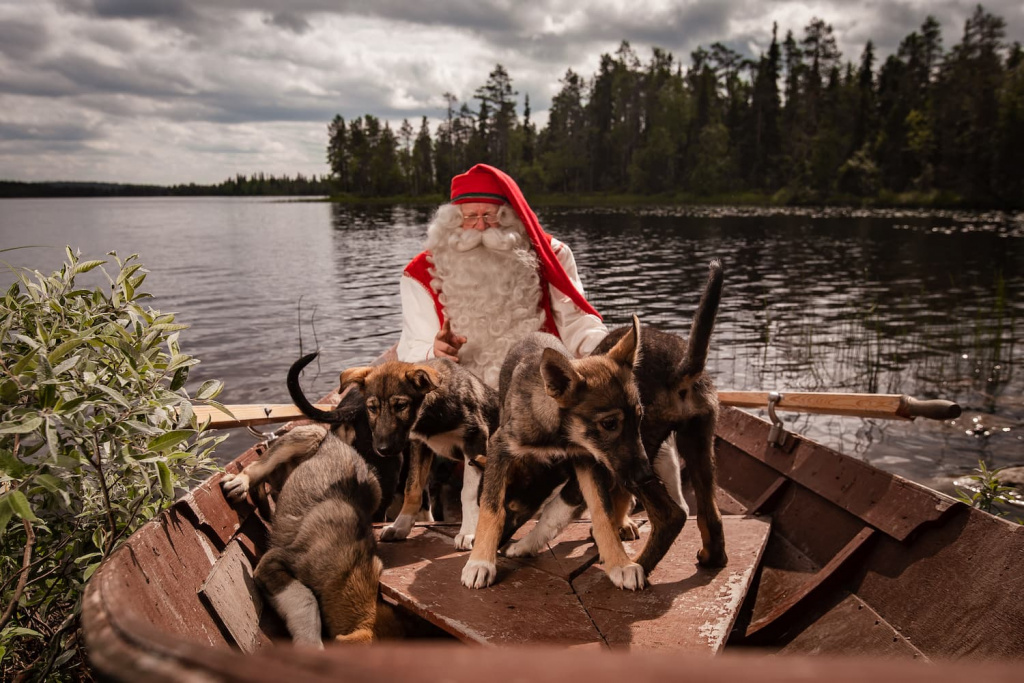 Summer weather in Rovaniemi and Levi
In June, the average daytime temperature ranges from +18 to +20°C. Maximum temperatures can rise to +30°C. Be prepared for the fact that the daylight hours in June can last 24 hours!
What to do in Santa Claus Village in summer?

In addition to relaxing in nature and working at his residence, Santa also visits his reindeer and husky, and keeps the Santa Post Office in order.


He also takes care of the balance of the world's goodness (of course he does). So, he's got his hands full. And lest you think that Lapland without snow is boring, here are a few ideas of things to do in Claus Village in summer.

We organise day trips to Santa's village from Levi to Rovaniemi, so below you will find ideas and family activities for both Rovaniemi and Levi.


So, here are 6 ideas:
Cross the Arctic Circle
Interact with reindeer
Husky Riding
Send a Christmas letter in advance to the Santa Post Office
Visit a restaurant serving Lappish cuisine
Walking in Lapland nature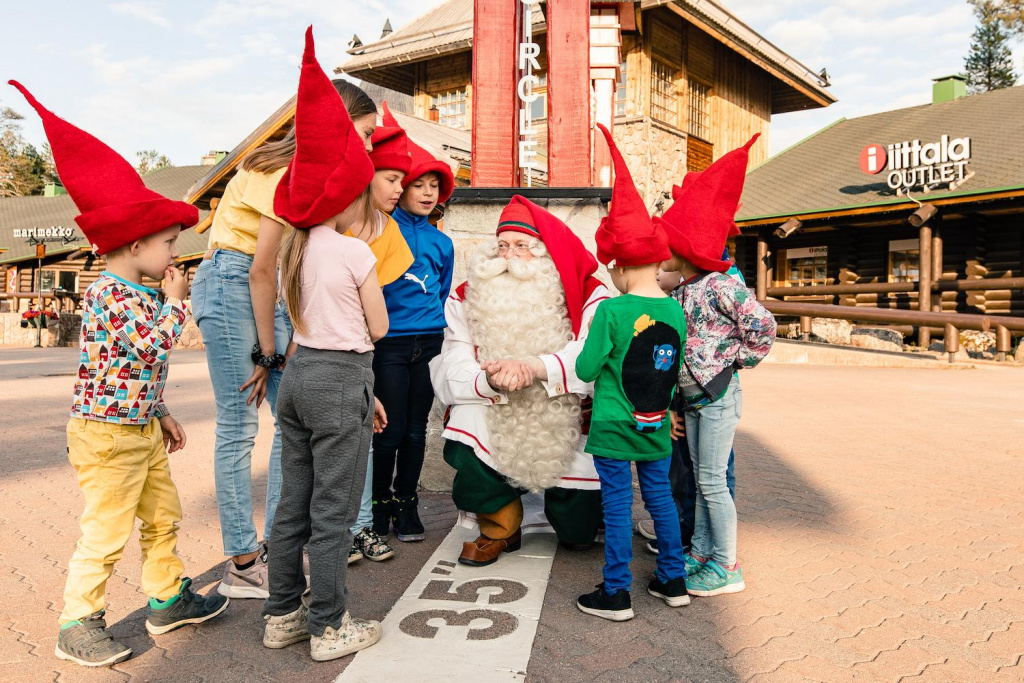 #1. Cross the Arctic Circle

The Arctic Circle is a reference line marking the southernmost place where the sun is sometimes just below or above the horizon. This line is somewhere on the 66th parallel of north latitude (in case you were wondering).
Starting from this location, you can find "white nights" in summer, when the sun may not go below the horizon at all. Most often it happens in June and early July. Such a time is called the polar day.
As you might have guessed, you can cross the Arctic Circle in Rovaniemi at the Santa Claus Village! That is to say, crossing this conditional line will take you from pre-polarity to the mysterious Polar Circle in an instant. Isn't it a miracle?
You can also get a special Certificate about crossing the Polar Circle. You can specify this moment from the manager of our travel agency Scandinavian Travel Group. Also, in Santa's Village you can officially stamp your passport (as in Customs), crossing the Arctic Circle. How about it?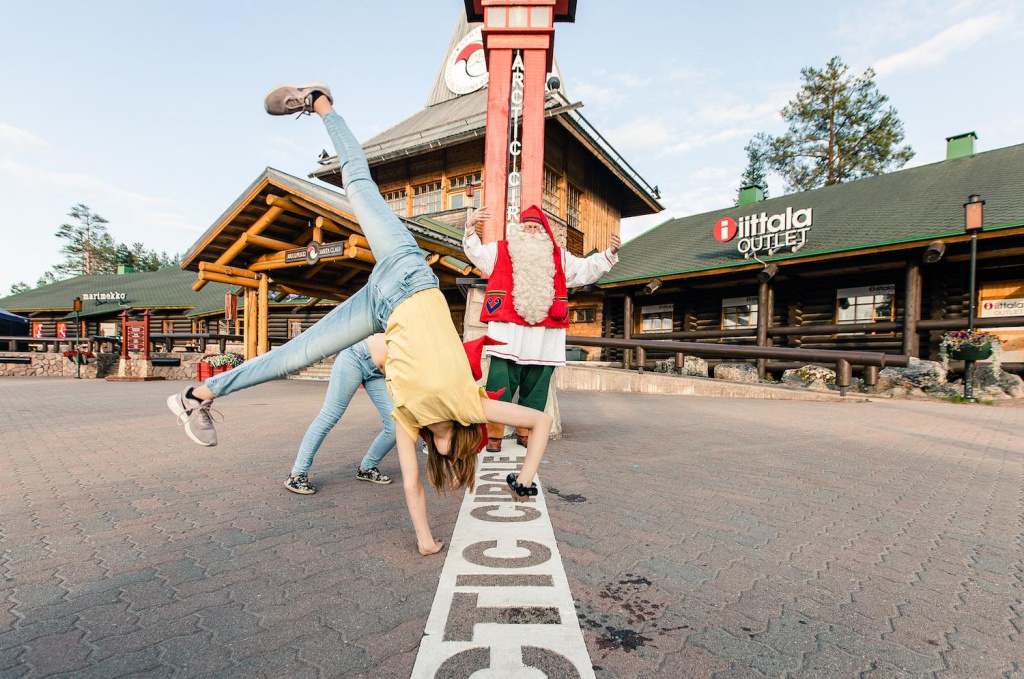 #2. Interact with reindeer
In summer, reindeer can be seen right behind Santa's office. Reservations are not required to visit the reindeer. You can hand-feed these noble animals and take fabulous pictures with them. Santa's helpers can also tell you interesting information about reindeer husbandry.


Would you like to ride reindeer?

We have two unique programs for you! We organise day trips to Santa's village from Levi to Rovaniemi. The first program includes a visit to an old reindeer farm, which has been in existence for over 150 years, and a ride on a reindeer. The second program is a 50-minute super reindeer sledding safari through the beautiful Lapland forest at a relaxed pace.

For more information on Santa's Village tours and additional family activities (both in Rovaniemi and in Levi), contact the Scandinavian Travel Group manager at the contacts listed on the website.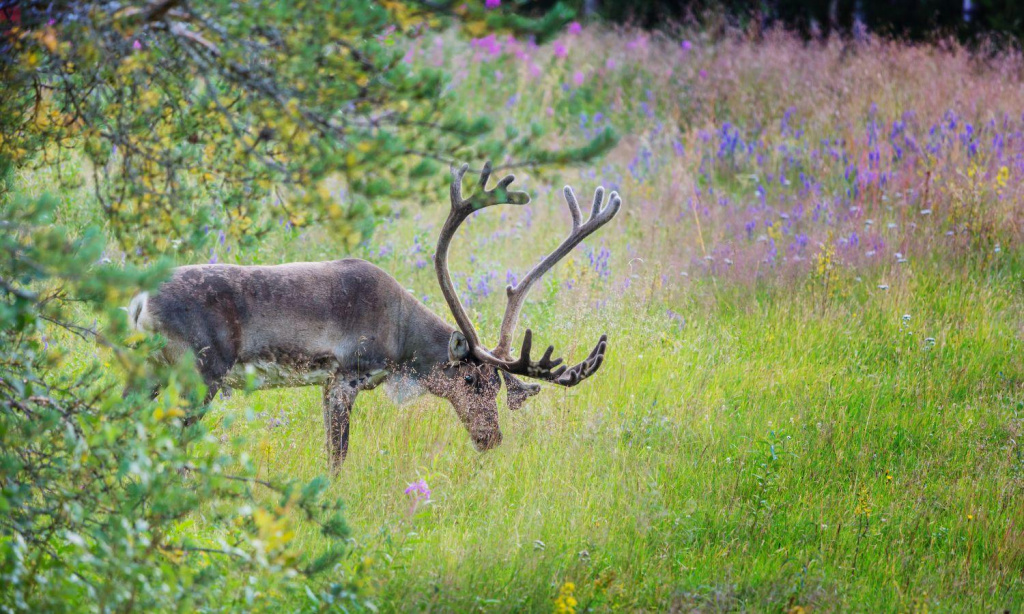 #3. Husky riding

Perhaps you thought dog-sledding was only possible in the snow? Well, no! Husky sledge ride is one of the most popular activities in Lapland in winter and summer!
Arctic Alaskan Huskies need somewhere to go to release their energy all the time. Therefore, for the snowless period there are special sledges on wheels. We suggest you to take a ride through exotic nature of Lapland in summer and feel the enthusiasm of dogs, rushing forward.
Well, you can choose the length of the trip: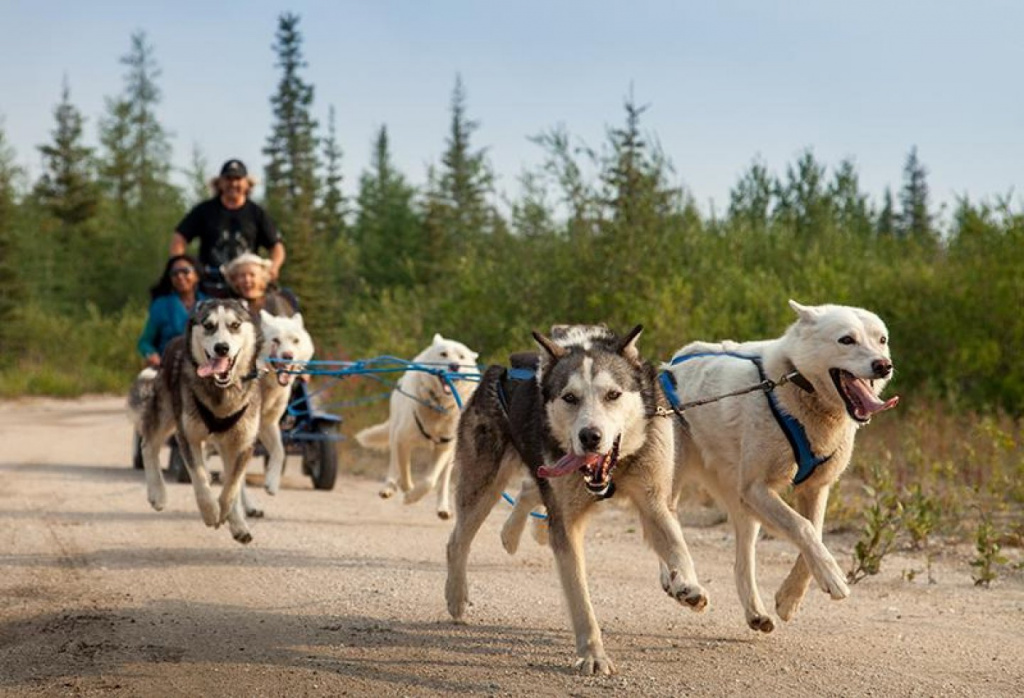 #4. Send a Christmas letter in advance to the Santa Post Office
At the cosy main post office of Santa's Village, the elves are busy all year round receiving and sending letters all over the world (and that's around 200 countries).
This Arctic official post office has been in operation since 1985. By the way, at this address (Santa Claus' Main Post Office, Tähtikuja 1, 96930, Arctic Circle, FINLAND) you can send a letter to Santa and be sure to receive a reply. Or, while at this post office, you can send a letter to your family and friends with a unique Arctic Circle stamp!
And there's also the option of sending a letter to your loved ones or your children for the upcoming Christmas season. Imagine that you have already forgotten all about those letters and are quietly preparing for the holidays. And then a little miracle comes to you: Letters from the Santa Claus Village that you sent during the summer. The festive mood is guaranteed!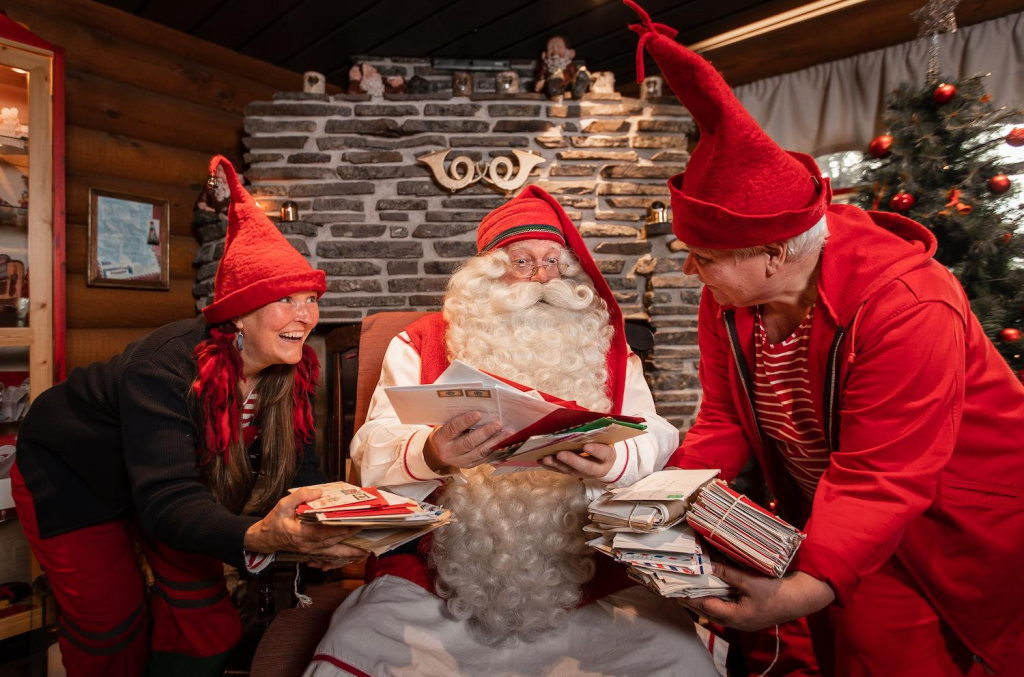 #5. Visit a restaurant serving Lappish cuisine
There are several restaurants in the Santa Claus Village that serve traditional Lappish food. For example, you can dine at the Kotahovi restaurant in a very cosy setting. It is a Lappish-style restaurant owned by the Körkkö family. It is located at the Father Christmas Reindeer resort.


The restaurant gets its name from kota (which is the Finnish name for a Lappish hut). Seating more than 50 people, kotahovi offers typical Sámi cuisine (e.g. salmon dishes, local mushrooms, pork, venison).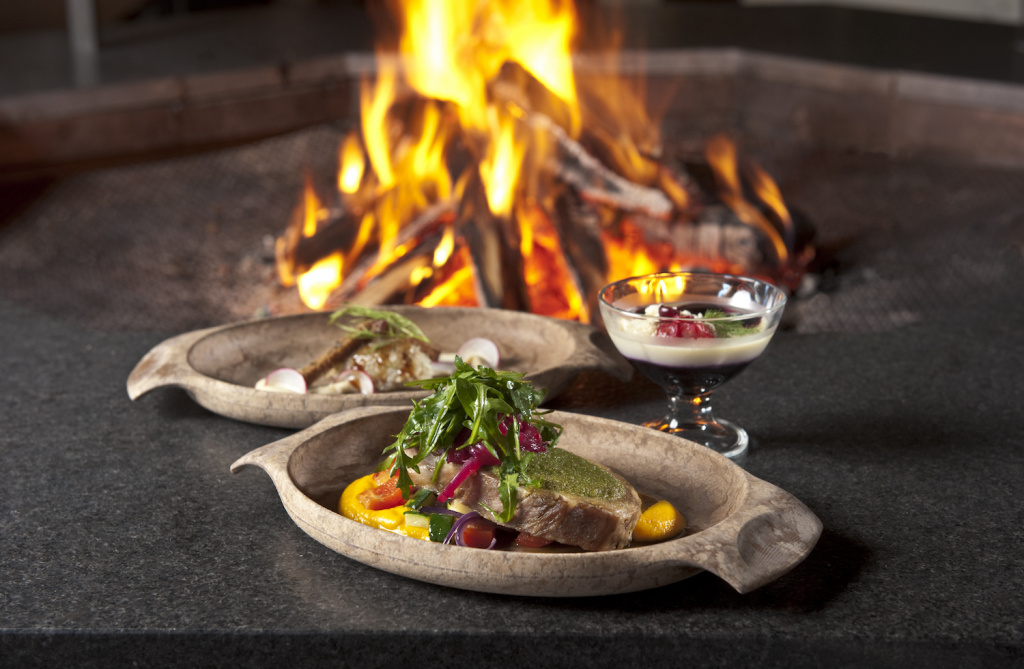 #6. Walking in Lapland nature
Claus Village is surrounded by a picturesque forest, where you can enjoy incredibly clean air. The great thing about summer is that you can walk around the tranquil nature as long as you like, as the daylight hours are long. Immersed in the tranquillity of Lapland nature, you'll be able to see the world through different eyes.
If you are travelling by car, you can go to Syvasenvaara Fell (Observation Tower). It is only a 2-minute drive from Santa's Village. The observation tower is located on a small hill and offers a nice view of the forest and part of Rovaniemi town.
Looking for more ideas for spending time in and around Santa's village? Then contact our travel agency Scandinavian Travel Group via the contacts listed on the website and our manager will find the best tailor-made tour for you!
Yes, judging by the weather, summer in Lapland is not summer in Antarctica, where it is always cold, snowy and minus temperatures all year round. But Santa is already used to this climate. And if he gets too hot, he can always conjure up a snow cloud or a smaller beard. He's a wizard, after all.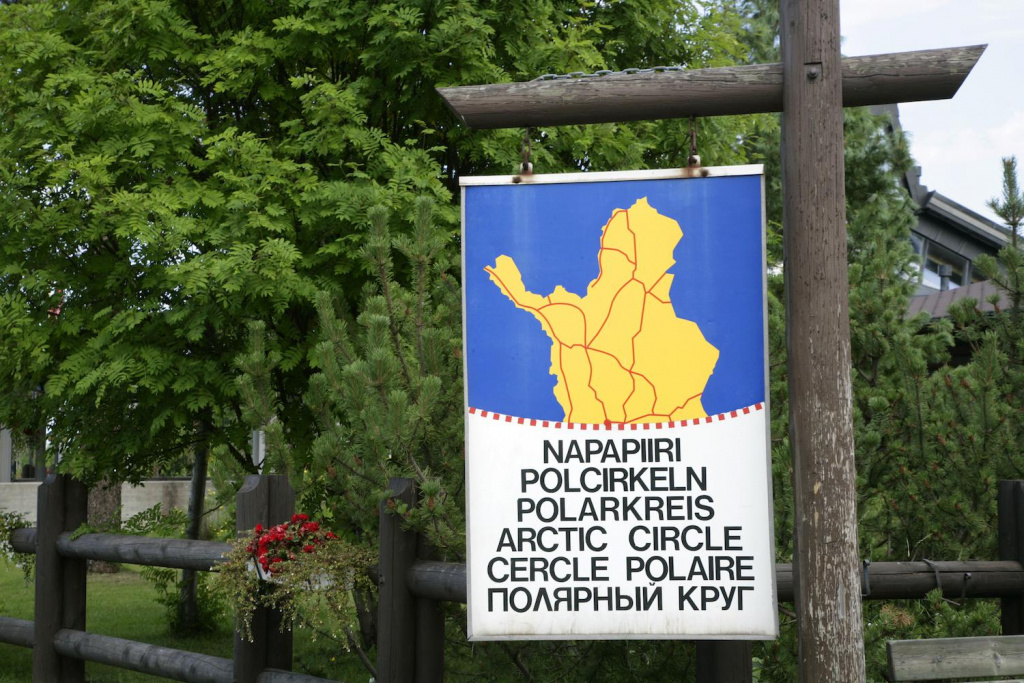 However, if you only want to associate Santa with winter, you can always take a New Year and Christmas tour in Lapland on our best winter programs:


Are you travelling with your family?
Ideas and family activities in Rovaniemi and Levi: сheck out more offers on our family programs:
This article contains photos used with permission from ©Visit Rovaniemi &
©Fenix.info
.