Do you want to experience true Nordic romance? Then a husky sled ride is just what you need! Meeting these furry Arctic creatures might be one of the most inspiring family holiday experiences of the year.

Husky rides in Finland are one of the most popular activities for families, especially with children, bringing mutual pleasure to both humans and dogs. Huskies are always happy to run around and exercise is good for them!

You can go sledding on a special forest trail. On average, 5-6 dogs are harnessed to the sled, with the group leader running ahead.


What time of year is it possible to book a husky safari service?
We are open all year round! Husky safari rides are available in winter as well as summer, spring and autumn! In winter, you can go sledding. A special summer sled design is available for the warmer months. The best offers are limited! Book your trip in advance with one of our programs:



Where can you go sledding with husky dogs in Finland / Lapland?

We offer several programs and locations in and near Levi (Finland), depending on your preferences, the availability of small children and the availability of places in Husky Parks and Husky Kennels.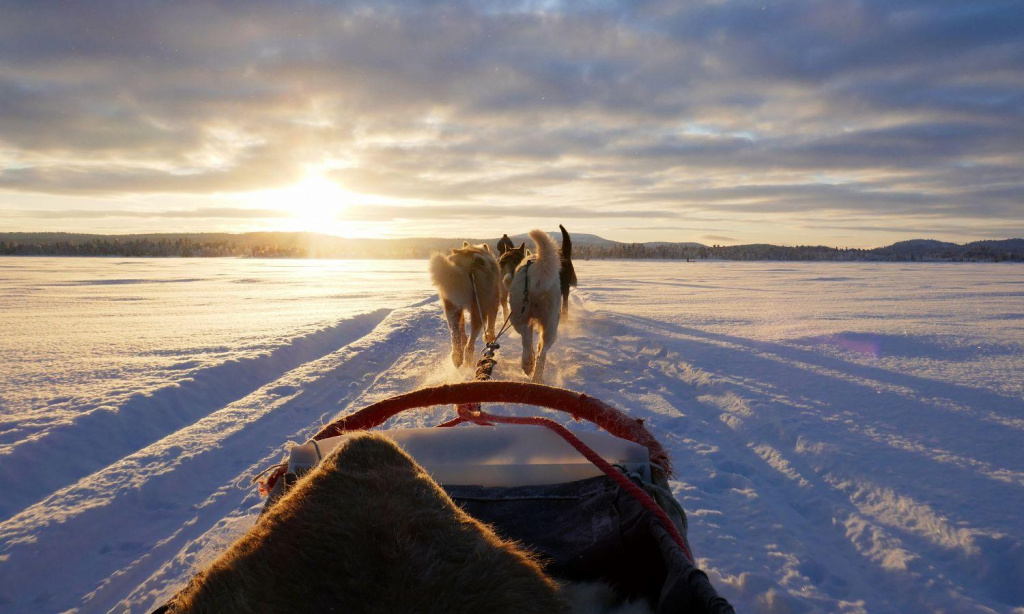 What do you know about huskies?

Did you know that the name 'husky' comes from 'huskimos', which is how the sailors of English merchant ships called the local aborigines (Eskimos)? Paleontologists at the Royal Belgian University of Natural Sciences believe that the first dogs were probably similar to the Siberian Husky, though they were slightly larger and appeared just under 32,000 years ago.
How can you tell if it's a Siberian Husky or Yakutian Laika?
Yes, the two breeds are very similar. And many people confuse them. The average person can hardly tell at a glance whether it is a husky or a laika. However, the fans of huskies know that their pets are stockier, short-legged and their tails do not form a cute "ring" on the back, as the huskies have. Both of these dogs can be similar in some ways but are quite different in many others.

The main difference, however, is that, unlike hunting dogs, huskies are solely sled dogs. They almost devoid of passion for prey hunting, and guarding the house is obviously not the best task to be assigned to huskies. They will hardly bark, preferring the "dog language" to the call of their distant ancestors: the wolf howl.

In this review we will tell you 6 interesting facts about huskies. So, sit back!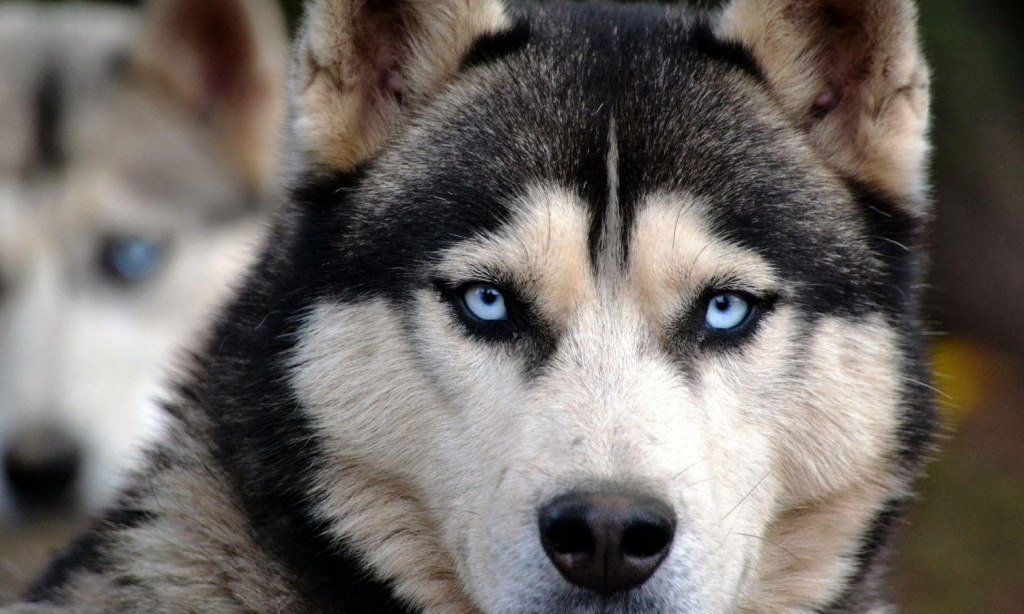 6 interesting facts about huskies
#1. Heterochromia
One of the distinctive features of the Husky is the color of its eyes, in most cases a sky-blue color. However, there are dogs with yellow-brown eyes, but also dogs with heterochromia: a phenomenon that manifests itself in different coloration of the eyes.

In fact, only the brown pigment is present in the structure of the husky's iris. If there is a lot of it, the dog's eyes will be brown, if not enough, they will be blue. Heterochromia occurs when the pigment content in the eyes is unequal, with more in the brown eye and less in the blue.
#2. A unique code
Huskies are known to be able to cover distances of up to 250 km a day in a sled. A team of 6-8 huskies can reach speeds of 25-35 km/h. Heather Hason of the National Human Genome Research Institute and the University of Fairbanks in Alaska believes that Siberian huskies have a unique genetic code, which has been developed over many centuries.

Of all sled dogs, it is the husky that demonstrates increased endurance, excellent movement speed and the ability to work as a team. Heather is continuing her research into the metabolic systems which play an important role in a dog's quick recovery after a race. The scientist is confident that her work will help people who have suffered serious injuries.
#3. Hidden strategy
We agree with the views of Heather Hason and Dr Michael S. Davies from the University of Oklahoma (USA). They believe huskies have some kind of "hidden strategy" that allows them to perform well during racing.

They seemingly know no fatigue, with the 25-kilogram dog burning about 13,500 calories a day. By comparison, a cyclist competing in the Tour de France burns twice that.

Scientists speculate that these amazing dogs have some sort of "switch" that slows down the rate of calorie burn. Once they understand how it works, they can probably "turn it on" in humans as well. That, at least, is what American researchers hope.
#4. Wool as a unique indicator
Wool as an indicator Eskimos like to say ironically in bitterly cold weather that they will need three dogs tonight, just by surrounding themselves on three sides with "living warmers" they will not freeze. The unique fur structure not only allows the Arctic Husky to work at temperatures as low as minus 60 degrees Celsius, but also gets rid of the smell peculiar to almost all dogs.

And scientists at the University of Alaska believe that husky hair can help detect mercury pollution. According to the study's lead author, chemist Kriya Dunlap, hair is a good indicator of mercury.
#5. Have wolfish origins
According to international research, the ancestors of modern huskies and wolves had an active gene exchange. They interbred freely, which is normal for canines of the same size class, standing close to each other in an evolutionary sense. However, later on, artificial selection followed the path of sifting out hybrids, so genetically sled dogs are very different from modern wolves.
#6. The urge to explore and the sense of guilt
We've written extensively about Huskies as social dogs, they're very affectionate and sensitive, they like to meet people and explore new places, and it's best not to leave them too long on their own. In the absence of company, they easily find entertainment:


Outdoors, they "hunt" for food;
At home, "tidying up" as a shredder.

Ethologist Frans de Waal describes a guilt-testing experiment on huskies in his book «Good-hearted». One of the dogs loved to shred various papers in its owner's absence. Its owner could put up with torn old newspapers, but when he found important papers or unread mail destroyed, the dog was "reprimanded" and seemed to feel guilty.

Remorse was shown in the dog's faithful eyes even when the owner tore up the papers and threw them about the room. The researcher concluded that the animal was not experiencing guilt, but rather worried about the behavior of its angry owner that followed her misconduct. And she didn't seem to care who committed it.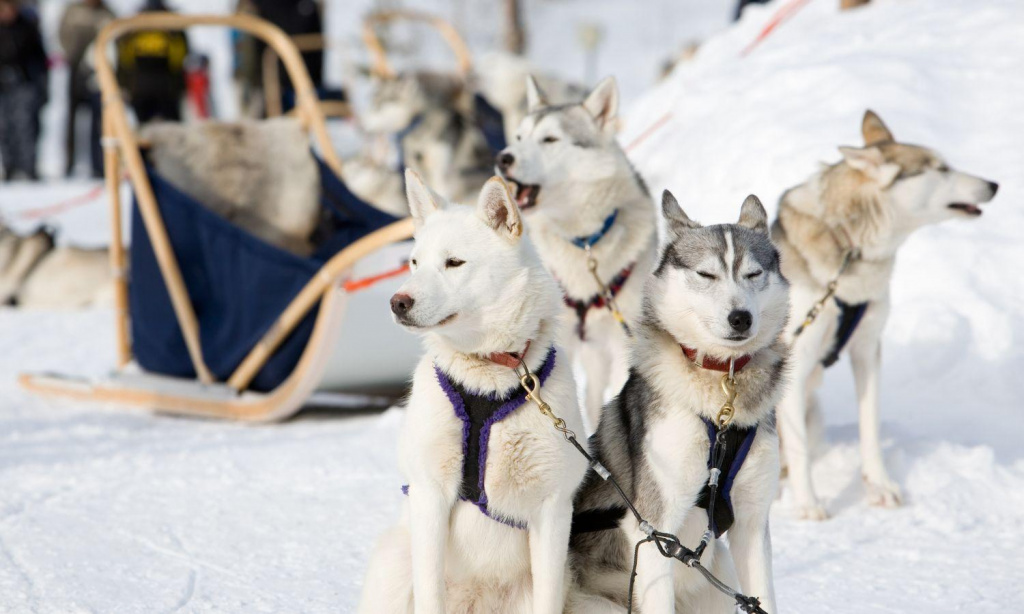 Are you ready for an adventure? Then get in the sleigh and let's go!

Plan your family trip to Finland / Lapland in advance: book your Husky Safari tickets online, on the Scandinavian Travel Group website with the best seasonal offer.


Depending on the program, in addition to Husky riding, Husky Safari services may include:
Guiding: getting to know all about the huskies
Husky treats and games
Husky rides
Gingerbread cookies and hot berry juice
Warm clothing for hire
Photo sessions on your own.

Not only a bright and interesting photo shoot awaits you, but also a fun time with the most amazing emotions. You and your children will have an unforgettable experience for a lifetime!

Also read our blog about Husky Kennel & Safari, Lapland's most popular activity!

If you're looking for a break from downhill skiing or just to diversify your holiday, there's a recreation centre and a mini water park in the centre of the resort. You don't have to bring all your equipment with you. In Levi (Finland), you can stay in a hotel or rent a comfortable cottage.

Our travel agency Scandinavian Travel Group arranges tours with accommodation on request. Contact us at the contacts listed on the website, and we will find the right tours for your family, designing the best winter holiday program.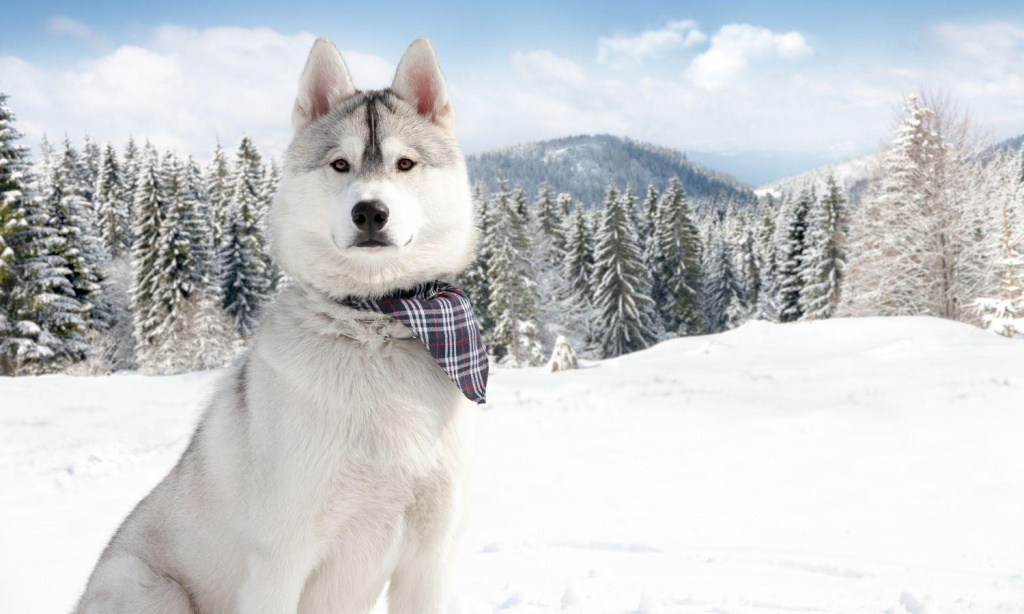 Try also other family activities in Finland:
Or find a tour suitable for you in our Main Catalogue: