Looking for a real fairy tale family adventure? A family trip to Levi's resort awaits you! A family trip to the cold and beautiful land of Santa would be a great choice this winter. Especially if you are travelling with children...

The ski resort of Levi is located in the northwestern part of Finland, in Lapland, in the municipality of Kittilä in the province of Lappi. The distance from Levi to Helsinki is 980 km, from Kittilä 19 km and from Rovaniemi 170 km. To give you an idea of what this place is like, Levi is located above the Arctic Circle, 170 km north of Santa Claus' main residence.


An exotic family holiday destination, isn't it?
A trip here is sure to be a memorable experience for you and your children. Our review tells you why it's so nice to remember a holiday with the kids in Levi.

Who can refuse the bragging rights of having crossed the Arctic Circle? Santa Claus' residence rewards the brave ones who just crossed the circle, and those who come to the ski resort of Levi go as far as 170 km into the Arctic Circle. And who would turn down the opportunity to stay awake at night when that night lasts several days?

Families with children come to Levi for the skiing, snowmobiling, husky, reindeer, to see the local Santa without waiting in long lines, and to catch the Northern Lights! Winter comes in earnest in Lapland, so there's always plenty of snow. You can play snowballs and go skiing, sledging and snowmobiling here, and you'll be sure to stay warm!


Family activities in Levi

Levi has everything that ski lovers and families with children are looking for. It is the perfect resort for family holidays. Levi is characterised by well-equipped hotels, top-quality service and numerous excursions.

Three times it has been voted Finland's best ski resort. It is markedly different from most traditional Finnish resorts. The resort has a unique slalom course that hosts international competitions. In terms of infrastructure and service it is comparable to the famous ski resorts of the Alps.

High and low difficulty levels and a very well-developed piste network. Free lifts for children. There is a ski school with numerous instructors.

For family winter holidays, Levi is probably the best place, especially when it comes to holidays with children. Our travel service Scandinavian Travel Group offers unique and exciting family tours and activities for children and adults, including:

... And much more. If you wish, Scandinavian Travel Group can organize even longer trips, for example from Levi to Rovaniemi or to other locations. We organize tours from Levi to Rovaniemi, which include the following program for children:

For younger children there is a playground. Fun sports competitions are held there. Babysitting services for the youngest guests are available.

Levi is not just a city, but also a mountain
By Finnish standards, Mount Levi is quite high: over 500 metres. For six months of the year, the mountain is shrouded in a thick layer of snow, and the monochrome landscape is broken only by the lights of hotels and the bright overalls of skiers.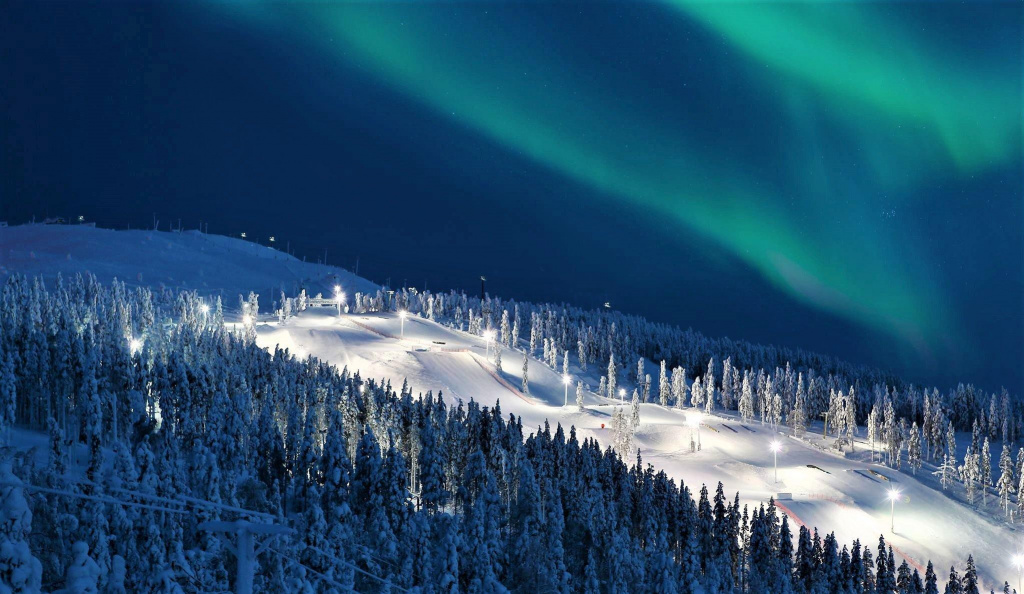 Weather and climate in Levi, Finland
Should you be frightened by the biting cold? You shouldn't be. Especially if you're planning an active time here. Levi has a temperate continental climate, so daytime temperatures in winter will be fine.
The harshest frosts in the resort of Levi are in January and February. The average temperature during these days is -9 / -10°C during the day and drops to -18 / -19°C at night. It should be noted that the winter night comes very early and temperatures start to fall after 2pm.

In March and April, the bitter cold snap subsides: the thermometers show -3 / -4°C during the day, though it gets down to -12 / -17°C at night.

In May, the ski season comes to an end with temperatures stably above freezing during the day and only mildly below freezing at night.

June is the start of summer, though by the Juhannus holiday the daytime temperature is barely +20°C and the average temperature is +20 / +30°C.

During the months of July and August, the resort still manages to get some warm sunshine, but most days the thermometers don't rise above +20°C.

While the summer sun barely reaches the horizon, temperatures drop to between +6°C and -8°C as dusk falls. Summer comes to an abrupt end in September. The first frosts begin to fall at night and temperatures are only +8 / +10°C during the day.


October feels like an early winter.

In November, a steady minus and the persistence of snow lures skiers here.

November to December is a time of mild frost, with average temperatures of -7 / -12°C during the day and -18 / -22°C at night.
In December, temperatures often reach -20 / -30°C.
Temperatures in winter can be extreme they stay below zero and have been known to fall as low as -40°C, with the coldest day around the end of January.

Spice up your holiday in Levi!
If you're looking for a break from downhill skiing or just to diversify your holiday, there's a sports and health center and a mini aqua park in the center of the resort. You don't have to bring all your equipment with you.
In Levi, you can stay in a hotel or rent a comfortable cottage. Our travel agency Scandinavian Travel Group arranges tours with accommodation on request. Contact us at the contacts listed on the website, and we will find the right tours for your family, designing the best winter holiday program.